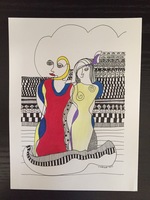 SHARON S. KALINER
Sharon Kaliner was born in Brookline, Massachusetts in 1954.
As a young child, she studied art at the Boston Museum of Fine Arts. She moved to Atlanta in 1973 where she studied art at Georgia State University.
Sharon exhibited her artwork in galleries in Atlanta and at the Piedmont Arts Festival while living in Atlanta. She took a sabbatical from drawing and painting to work in the business sector until 2001 when she moved back to Brookline. Sharon then began painting and drawing again and moved to Philadelphia.
Now living 6 months in Philadelphia and 6 months in Jupiter, Florida, Sharon has kick started her art education and practice by studying with various artists in the Southeast.
Sharon's art has been exhibited in Atlanta, Philadelphia, Boston and Florida.
The CONTEMPORARY ART PROJECTS USA/ GALLERY at SPECTRUM, MIAMI accepted three pen & Ink, colored pencil pieces for their booth at Art Basel in 2015. In 2016, Sharon Will be exhibiting at her own booth at SPECTRUM, MIAMI.
Sharon is now working in mixed media including, acrylic, pen & ink, colored pencil, oil and soft pastels and collage. She is also incorporating her own photography in to many of her painting.
EXHIBITIONS
Admiral's Cove Art Show 2014 Jupiter, Florida
(awarded exhibition at PB State College)
Palm Beach State College 2014 Palm Beach Gardens
DaVinci Arts Alliance 2014 Philadelphia, Pennsylvania
Contemporary Art 2015 SPECTRUM MIAMI
Art Projects USA Miami, Florida
Admiral's Cove Art Show 2016 Jupiter, Florida
JAFCO Comedy Night 2016 Palm Beach Gardens, Florida
Leonard P. Zakim Center for
Integrative Therapy Fundraiser 2016 Boston, Massachusetts

SPECTRUM, MIAMI 2016 Miami, Florida
Sharon's pieces hang in private collections in Cape Cod, Boston, Philadelphia, Palm Beach Gardens and Jupiter, Florida.